Welcome to the Change It Up Blog Hop sponsored by Brenda Sue Lansdowne of B'Sue Boutiques. The idea of this blog hop was to use one of the following raw brass pieces from B'Sue Boutiques in a unique way or in a way we had never used it before. In addition the style of the piece should be with a  "Vintage Flair".  You can read more about the background here.
I chose to use the first one in the upper left corner(LF09727).  I had used this piece before as a focal in a necklace.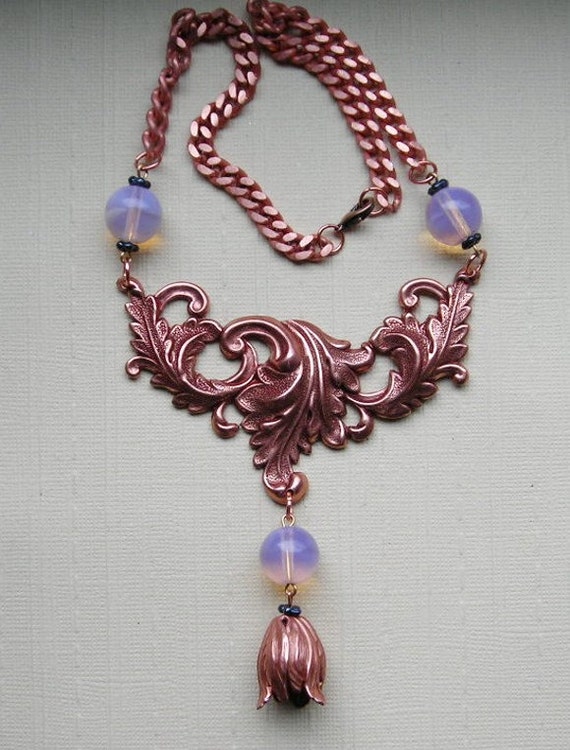 With this necklace I used the lovely rose ox finish but for my blog hop piece I used the raw brass.  I aged two of the raw brass pieces by soaking in a salt and vinegar solution and then baking them in the oven. This method allows for a lovely rich vintage looking patina.  Here are some examples of other raw brass pieces done using this salt and vinegar method:
I of course forgot to take photos of the pieces I cut before making them into jewelry but here is an example using the same leaf focal just in the rose ox finish.  I am planning on making another necklace using these in the rose ox finish as well.
What I did:
soaked my cleaned raw brass pieces in salt water and vinegar solution and baked in the oven
cut the focals apart using these shears
sanded and filed the rough edges
sealed the brass with renwax
made jewelry!!!!
Here is what I made:
Using two of the raw brass focals I made a parure.  I used vintage glass faceted cabochons in a very pale lavender color. Part of my inspiration was this lovely vintage necklace:
But I was also inspired my some of the old Hollywood costume jewelry designers, especially Joseff of Hollywood.  Brooches are in style right now and so are bolder necklaces and long,bold earrings.  Here are some more photos for you to enjoy.  You can click on the photos if you want to see an enlarged picture for more detail and then hit the back button to come back to the post!
First photo show the necklace, earrings and brooch, then the brooch and earrings together and then just the necklace.
Thanks for stopping by and don't forget to check out the others on the list below!
Brenda Sue Lansdowne
Jewelry Making Outside the Box
Mary Deis
The Rose Sword
http://theroseswordmdeis.blogspot.com/
Jann Tague
Clever Designs
https://janntague.wordpress.com/
Lori Beekman
B.Accessorized
https://baccessorized.wordpress.com/
Renee Hong
Fine and Dandy Jewelry
http://www.fineanddandyjewelry.blogspot.com/
Cynthia Wainscott
Exotic Peru Jewelry
http://exoticperujewelry.blogspot.com/
Dana Hickey
Magpie Approved
http://magpieapproved.blogspot.com/
Mary Beth Quigley-Spiker
Q Settings
https://qsettings.wordpress.com/
Karen Eaton
KJewelry Creations
http://kjewelrycreations1.blogspot.com/
Shari Gardner
SLG Jewelry Designs
https://slgdesigns.wordpress.com/
Alison Huie
Ally's Baubles
http://allysbaubles.blogspot.com/
Pamela Anger
Novegatti Designs
http://www.novegattidesigns.blogspot.com/
Carole Carlson
Beadsophisticate
https://beadsophisticate.wordpress.com/
Cindy Peterson
Howling Dog Jewelry
https://howlingdogjewelry.wordpress.com/
Marcia Tuzzolino
Aurora Designs
http://auroradesignsjewelryblog.me/
Charlotte Smothers
Sea Horse Ranch Life
http://seahorseranch.blogspot.com/
Catherine Shattuck
Victorian Rose Boutique
https://vrbrose.wordpress.com/
Clare Wells Nemeth
Papercrafting Magic
http://papercraftingmagic.blogspot.com/
Erin Whitacre
Shattered Time
https://shatteredtimejewelry.wordpress.com/
Lynda O'Mara
Lomara Creative
http://www.lomaracreative.com/
Ginger Hammond
Lynn Leigh Designs
https://lynnleighdesigns.wordpress.com/
Ingrid Anderson      **********You Are Here**********
Lilis Gems Artisan Jewelry
https://lilisgems.wordpress.com/
Deb Beechy
Beetique
http://www.beetique56.blogspot.com
Harry Wood
Oscar Crow
http://oscarcrow.blogspot.com/
Delyssa Maxwell
Past Time Fancies
https://pasttimefancies.wordpress.com/
Paula Gaskill
Lovely Layla Bugs
http://lovelylaylabugjewels.weebly.com/blog
Irene Hoffman
Heart's Dezire by Irene
https://heartsdezirebyirene.wordpress.com/
Alexandra Sefton
Imaginary Jewelry and Altered Art
http://wilywolverine.blogspot.com/
Leslie Carver
Adorn Divine Designs